Christmas Break
on
December 24, 2012
at
12:05 pm
Hey folks! Just wanted to let you know that The Utopian: Foundation will be on hiatus this week. It's the first break from the twice-a-week schedule I've taken since the strip's launch in April, and I figure a lot of you are tied up with your own holiday shenanigans, so you might not be checking such things anyway.
BUT, in the event that you need a distraction from all that family time (and I know we all do), or if you have nothing better to do, my Christmas present to you is a FREE download of the first issue of The Utopian from fall 2009: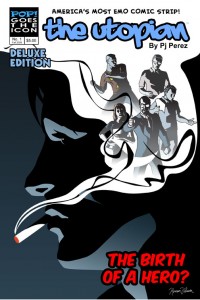 See the origins of this little world in which Foundation takes place come to life in full, gaudy color (and also see how awful my artwork was just three years ago). And if you want to read more, well, you know where to go. Download and enjoy.
And then I'll see you back here on Monday, Dec. 31 with the next chapter in the continuing saga.